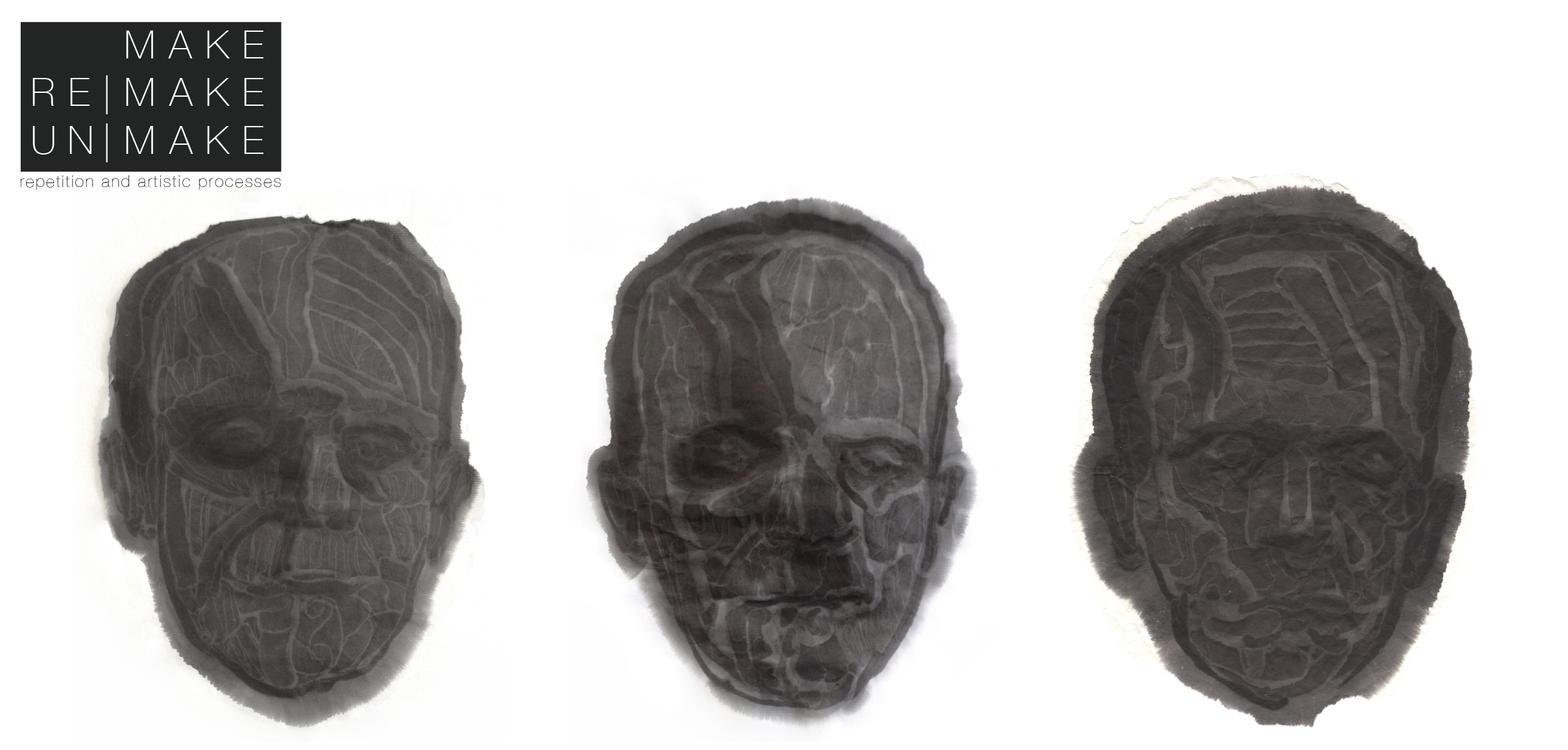 February 12 – March 8, 2015
Reception: February 15, 2 – 4 p.m.
Curator Talk: March 7, 2 p.m.
Bookbinding Workshops: March 8
Kids 11 a.m. Adults 2 p.m.
"MAKE RE|MAKE UN|MAKE" highlights the work of six artists, each working in different media, whose work utilizes repetition as a device to investigate diverse ideas and themes. Repetition is intrinsic to each of these artists' creative processes, and is used both formally and conceptually throughout the exhibition.

Neil Chung's video installations use repetition of sounds as well as looping to create meditative rhythms that address our relationships with technology and nature. In the work of Suzanne Fulbrook repetition and disintegration are paramount; using a process of watercolour and saltwater on unprimed canvas to produce photorealistic result, the paintings are then soaked, scrubbed and run through a clothing mangle, squeezing the once vibrant image into a vestige. Yvonne Hachkowski uses traditional methods of photography that call attention to ideas about the finite vs. infinite, while observing and recording the state of changing landscapes as a consequence of human contact. Elizabeth MacKenzie uses repetition in her growing series of ink drawings on rice paper to consider and affirm difference through the archetypal figure of Frankenstein's monster. Tamara Skubovius employs repetition to tell stories about the land and those who inhabit it, and through the process of casting, creates serial objects that hold cultural symbolism and contemporary significance for the Tāltān First Nation. Janice Wu's realistic gouache paintings illustrate her habit of collecting mundane objects, and present the symbolic and sentimental qualities these objects possess that extend further than their use or worth within material culture.
A limited-edition publication accompanies the exhibition. As several of the artists reside outside of Vancouver, each artist was asked to respond on paper to four questions about their artistic processes, using a standard page size. When the artists completed this 'visual interview,' the pages were mailed to the curator and assembled for the publication. This offers a unique opportunity for viewers to bring part of the exhibition home with them.
NEIL CHUNG
SUZANNE FULBROOK
YVONNE HACHKOWSKI
ELIZABETH MACKENZIE
TAMARA SKUBOVIUS
JANICE WU
Photo Credit: Elizabeth MacKenzie, Excerpts from Thy Creature series, 2014-ongoing, Ink on rice paper, Sizes vary: approx. 25 x 20 cm to 28 x 22 cm, Courtesy of the artist.