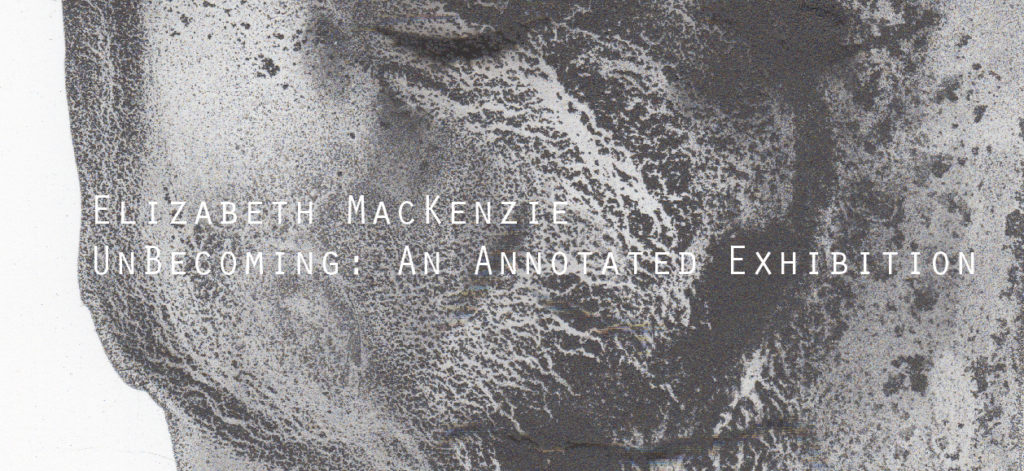 September 14 – October 22, 2016
Reception: Sunday September 18, 3 – 4:30 p.m.
Artist Elizabeth MacKenzie presents a new series of large-scale, drawing-based digital prints investigating the problematics of self-portraiture, along with two additional installations that annotate her creative process within the development of this work.
Studio visits with a number of artist colleagues, from a variety of backgrounds, are crucial to MacKenzie's process. These conversations will move into the gallery within a series of three public programs, noted below. This continuing dialogue will be documented within the artist's blog, available at seymourartgallery.com.
Sunday September 18, 2 p.m. How it Begins:
Artist Elizabeth MacKenzie discusses the history and thinking behind her work during an exhibition tour
Saturday October 1, 2 p.m. How it Develops:
What role do other artists play in an artistic practice? A discussion with artists Elizabeth MacKenzie and Jin-me Yoon
Saturday October 22, 2 p.m. How it is Shared:
A discussion on the value of public engagement with artist Elizabeth MacKenzie and artist/arts programmer Cyndy Chwelos
---
 HOPE FORSTENZER
OCTOBER 26 – NOVEMBER 19, 2016
---
 WINTER GIFT GALLERY
NOVEMBER 23 – DECEMBER 24, 2016